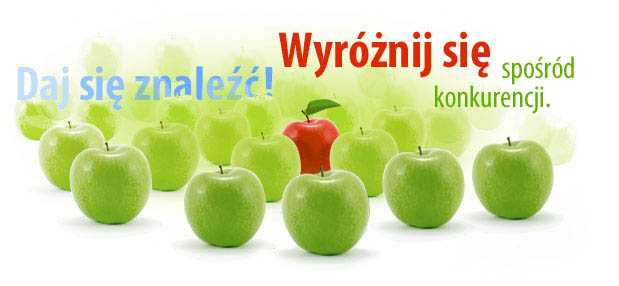 Skuteczna promocja w Internecie to przede wszystkim rzetelna informacja oraz wyróżnienie się wśród olbrzymiej konkurencji.
Jak się wyróżnić?
Poniżej prezentujemy listę produktów reklamowych, które oferujemy Państwu poza bezpłatną prezentacją.
Subscription
Doładowanie konta do wykorzystania na dowolną reklamę np. na pozycjonowanie

Photos Sesja zdjęciowa


Weryfikacje obiektu przez pracownika, wpływająca na wzrost zaufania nowych klientów

Własną stronę internetową w domenie dobrynocleg.pl bez żadnych opłat

Advertising text, który wyróżni Cię spośród konkurencji

Opiekę, pomoc oraz porady Biura Obsługi Klienta

Tłumaczenie oferty na język angielski i niemiecki
W sprawie zakupu abonamentu prosimy kontaktować się z Biurem Obsługi Klienta pod numerem
+48 505 777 227
Pozycjonowanie w sorcie
Produkt pozwala na podniesienie pozycji prezentacji obiektu w głównym wyniku wyszukiwania dla miejscowości, w których jest on wyświetlany.
Produkt został tak przygotowany, aby nie trzeba było jednorazowo inwestować dużych pieniędzy i żeby można było nim łatwo zarządzać.
Price:
from 1 pkt dziennie.
Dodatkowe miejscowości
Jeśli uważają Państwo, że Państwa obiekt powinien być widoczny także w miejscowościach znajdujących się w pobliżu, ten produkt jest właśnie dla Was.
Dodanie dodatkowych miejscowości znacząco zwiększa szansę na znalezienie przez użytkownika właśnie Państwa obiektu.
Produkt wykupuje się na 12 miesięcy!
Price:
może się od siebie różnić i jest uzależniona od atrakcyjności turystycznej danej miejscowości.
Dodatkowe typy obiektów
Rejestrując obiekt w serwisie eholiday.pl wybierają Państwo jego typ główny. Typem może być hotel, pensjonat, camping itp. Jeśli chcą Państwo, aby obiekt wyświetlał się w wyniku wyszukiwania po typach, w innym typie obiektu niż ten, który jest ustawiony jako typ główny, ten produkt jest właśnie dla Państwa. Wykupienie dodatkowego typu zwiększa szansę na znalezienie przez użytkownika. Usługę można wykupić na pełne 12 miesięcy.
Price:
from 9 pkt for 12 months.
Więcej informacji o wszystkich produktach znajduje się w panelu edycji danych pod adresem
https://en.eholiday.pl/lokalizacje/
lub u naszych doradców pod numerem infolinii
801-011-477 lub 884 884 333
Jesteś zainteresowany promocją w eholiday.pl?
Jeżeli tak to wypełnij poniższy formularz kontaktowy, a my niezwłocznie oddzwonimy do ciebie.
Przekażemy dokładne informacje o dostępnych produktach, wytłumaczymy ich działanie, doradzimy rozwiązania najbardziej optymalne dla Twojego biznesu.